Last fall we bought 50 ton of hay because we were short and the cows have to eat in the winter. The year before I sold 120 tons of hay because we had plenty. Such is the fickleness of our irrigation water supply which comes exclusively from a little reservoir about a mile above our fields, and which is filled by melting snow pack from the winter months.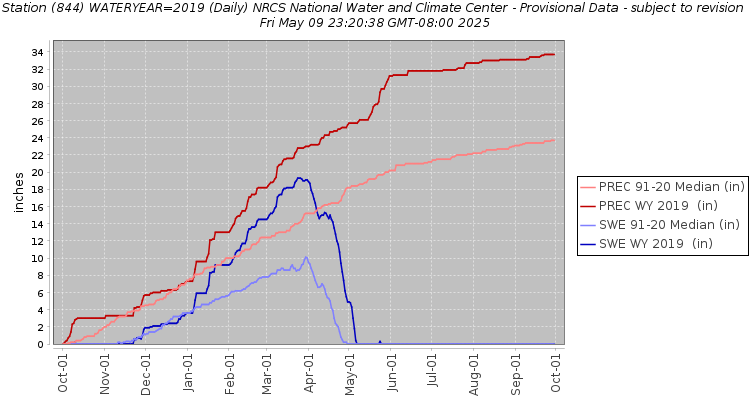 This year, our snow pack is running 175% percent of average (see blue lines on the graph above); a great feeling for us desert dwellers. But even good news has its down side.
It's not so bad in March when the snow is warmer (smiley face) and the mama cows are tougher than we are.
Marketing Anyone?
We are novices and we have a challenge: how to sell 24 beef or 14,000 pounds of beef this fall, not to mention the 2000 pounds that are ready to go. Three quarters of it is the good stuff, American Wagyu, which should command a premium. We want to sell locally –direct to customers–but we haven't found enough locals that want great beef and are willing to pay more. We've tried a farmers market last summer with only small success. We have done Beef Tastings for groups and we have one scheduled for April. Should we do more Beef Tastings at people's houses in a dinner party atmosphere? Or at farmers markets and festivals?
Restaurants seem a logical place for showcasing our top quality beef. Anybody have a favorite eatery that needs a special steak on the menu? Or ribs? Or roasts? Or meatballs?
Should we advertise to BBQ guy on the radio?
How can we reach foodies that need to upgrade their diets?
Go ahead and send in your ideas and opinions; we will consider all.